I really wanted to thank you for all your help during the purchase of our investment property. It was a pleasure to work with you and we really appreciate the way you were always extremely responsive and had great suggestions for possible condos and projects to view based of what we were looking for. You were very quickly handling all the issues that were rising during the purchase process, always showing you are very kind and professional and ready to help as you guided us every step of the way.
I am confident and happy to recommend you to my friends! Best regards,
Andreia
We were extremely pleased with the service and commitment when selling our home this spring with Christine. She came to the first visit well prepared with a good understanding of the neighborhood and real estate market in general. It was a stressful time as house prices in Burnaby were dropping and buyer interest was at an all time low. Christine was always very professional and kind to us. She went out of her way to make sure our house showed well and she went far above the "call of duty". Her service was excellent, her advice spot on, she was always cheerful despite the pressure from us, we could reach her any time of the day (and night), and she is a canny negotiator. I would definitely hire her again in the future should the need arise!
William and Iris
There were so many aspects of buying a home in Vancouver that we didn't understand… Christine Filer is incredibly knowledgeable about the changing nature of real estate in this city. We were so lucky to have her looking out for our interests."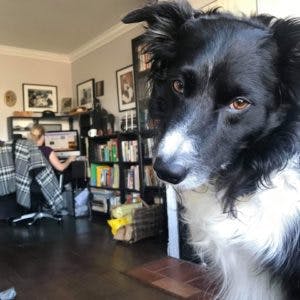 Emily, Brian, and Hector the Border Collie
"I initially contacted Christine on the enthusiastic recommendation of a colleague to find a condo in Vancouver. However, my region expanded and my priorities changed. Christine quickly adjusted to my new direction and helped me find, negotiate, and buy dream land. The land is a piece of pure cinematography without a blockbuster budget. It turned out to be better than what I was looking for."
Ian – purchased a 10+ acres lot in Bridge River BC
"Christine Filer is experienced, dedicated and works hard to ensure complete client satisfaction in securing the property of your dreams. I had absolute confidence and trust in her advice and felt like our real estate transaction was more of a collaboration between friends with the same goal. It was a pleasure doing business and I highly recommend her to everyone."
Krystyna
"As first time buyers, working with Christine was great. She was patient and down to earth. She did her homework, never pushed us into a transaction, didn't rush us in the search process, and did her best to address our housing needs in each of the listings she found for us. As we gained more experience with real estate and changed our needs, Christine was quick to adjust her recommended listings accordingly. Christine would bring up considerations we hadn't thought of, so we were very grateful to have her with us at each viewing. Christine is also a lovely person to interact with, which is so important in this often long and time-consuming process! "
Maia S.
"Christine was great to work with, flexible and a good listener. She is hard-working and was very helpful in negotiating and closing the purchase at a reasonable price in a difficult market."
Jeffrey
"We asked Christine to help us find a rental property in this super dynamic Vancouver real estate market. Within a few weeks, she found and successfully negotiated the purchase of a property for us. Christine is very professional and diligent. The transaction went smoothly because her care and attention to details. I would not hesitate to recommend her to my family and friends."
Mike & Grace Juzenas
"I love working with Christine. Not only is she is passionate about finding families the right home, she is patient and willing to put time and hard work into the process. It is great to work with someone who has the client's best interest at heart."
Annette Garm